samui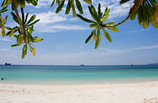 The numerous islands along the coast of Surat Thani make it a perfect hideaway for vacationers from around the world. The ideal destination for many is Ko Samui, Thailand's third largest island. Since it's rise in popularity in the mid eighties it has been purposely developed as a tourist destination and offers a well developed infrastructure of hotels, resorts, restaurants, bars and tour operators, in addition to many other services. 
There are plenty of activities to keep you busy when you get tired of lounging on the beaches, including diving, fishing, mountain biking, golf and healthy pursuits such as yoga, massage and day spa treatment. 
Shopping is another big attraction for tourists. Although the island doesn't rival Bangkok for choice or Chiang Mai for price, there are several day and night markets and plenty of shops in the main centres, particularly Chaweng with a good choice of cheap clothing, souvenirs and gifts, art and décor, food and more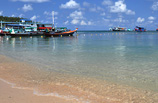 By night Samui continues to entertain and continue with it's leisure character. Restaurants are numerous and boast a wide selection of Thai, seafood and international cuisine, sometimes right on the beach, and when you've had your fill there are all sorts of bars to keep you occupied.