useful information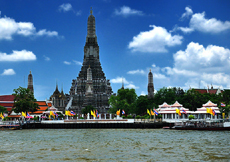 Loving Thailand is easy: The people are kind and welcoming. Many speak English or pretend to. Never colonized by Europeans, Thailand has a rich, unique history coexisting with modern spas and hospitals, incredible beaches and idyllic islands, luxury shopping and world-class dining, and heart-breaking traffic and nightlife. The sounds and smells of Thai cooking captivate long stay residents, tourists and locals.  
Comprehending it all takes time, so it's not surprising that many foreigners make Thailand their home. Thailand is relatively cheap: food, transport and accommodations are a fraction of the price back home.

General
The Kingdom of Thailand is a green, tropical country of 65 million people, +7 hrs ahead of GMT. The currency is the Thai Baht. Weights, measure and distances: Metric. Power outlets are 220V, 50 Hz. The country dialing code is 66; for local calls, drop the 66, add a 0; for example 02-653-2398 becomes 02-653-2398 in Thailand.

Bangkok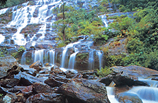 Bangkok, a city of 10 million plus, became Thailand's capital in 1782, a few years after the Burmese destroyed the previous capital, Ayutthaya. Now called Krung Thep (City of Angels) by Thais, it was originally called Bang Makok (Place of Olives), hence the name now used by most foreigners. Bangkok's original name in Thai is 164 characters long, making it the longest capital name in the world.
Since 1785 when the new capital's walls were built and its temples and canals refurbished and expanded by King Rama I, founder of today's ruling Chakri dynasty, it has been the center of Thai social, business, cultural and political life.

The first half of the 19th century in Bangkok saw a frenzy of temple building under the rule of Rama III, while the definitive moment of his successor's turn at the throne was the construction of the city's first road alongside the river in 1861. More roads were soon added and, well before the turn of the century, horse-drawn carriages and rickshaws had replaced watercraft as the favoured mode of urban travel.

Recent History
In 1932 Thailand established a constitutional government and Bangkok became the hub of a vast, still expanding public service. The Japanese occupied Bangkok and much of Thailand during WWII. Bangkok and Thailand modernized quickly after the war, becoming a recreation favorite for US troops fighting in Vietnam. One of the Asian Tigers with a  double-digit economic boom from 1980-1997, Bangkok was devastated by the 1997, which left hundreds of unfinished buildings and cranes dotting its skyline.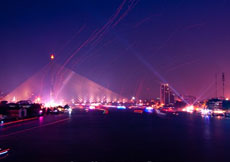 Economy Today
Though growth is more subdued today, Bangkok and Thailand's economy has recovered from 1997. Few empty buildings remain, and construction is booming, especially for new hotels and housing for middle-class Thais. Though dampened by on-going largely peaceful political protests since early 2006 that resulted in September 2006's military coup and which continue today, the economy picked up after the December 2007 general elections won by Samak Sundaravej and the People's Power Party (Palang Prachachon). Most expect sluggish economic growth of 4-5% until the political situation clears up.

Basics
Currency
The national currency is the Thai Baht (฿), with 100 satangs in one baht. The Baht comes in notes of 20 (green), 50 (blue), 100 (red), 500 (purple) and 1,000 (beige). coins of  25 satang (1/4 ฿), 50 satangs (1/2 ฿),  and 1, 2, 5 and 10 Baht. 
Changing money
Banks give the best rates when exchanging currency; many give cash advances on your Visa or MC. ATMs are found everywhere in Thailand, and most accept foreign credit cards (Visa, MC). 

Tipping
Other than in five-star hotels, it's not expected. Though many restaurants add a service surcharge of up to 10%, leaving any coins from your change and 20-50 Baht is always appreciated, but not necessary.

Haggling 
Prices are fixed in most urban shops and department stores, but not always. Most items sold in markets or on the street are negotiable. Thais love to haggle, but don't start unless you're seriously interested and stay cool no matter how heated the discussion may apparently become. Remember: sanuk and jai yen! Some useful phrases: 
Rak-ah taow-rai? (How much is it?) Lot dai mai? (Can you discount?) 
Pang maak! (Too expensive)  Took! (cheap) Sue-way jang (so beautiful!)

Sample Street and 7-11 Prices (Bangkok) 
Bottle of water (1 Litre): 8-15 ฿
Fresh pineapple, chopped, street: 10 ฿
Noodle soup, rice noodles: 25-30 ฿ 
Fried/grilled chicken (piece): 15-30 ฿
Steamed rice (small bag): 5 ฿ 
BTS skytrain: 15 ฿ first stop, 20-70 ฿ average fare
MRT subway: 11-14 ฿ first stop
Chao Phraya ferry boats: 9-20 ฿ 
Khao San guesthouse room: 300 ฿ per night
3-4 star hotel room: 1,500-3,500 ฿ per night
5-star hotel room: 4,000-7,000 ฿ per night
Movie ticket: 100 (Apex, Lido)-800 ฿ (Siam Paragon)
Large Singha beer, restaurant: 90 ฿ 
Traditional Thai massage (2 hrs): 250-400 ฿ 

Weather
It's not surprising that large communities of expats are scattered around Thailand's beaches, cities and northern and central highlands: Thailand enjoys a tropical to subtropical climate with 3 distinct seasons: hot, blazing summer March to May (35-42C), rainy with plenty of sunshine from June to mid-October (32-35C) and dry, cool from November through February (25-33C). 

Customs and Culture
A predominantly Buddhist country, Thailand is a Buddhist constitutional monarchy headed by King Bhumiphol, Rama IX, who has been on the throne for over 60 years. Thais revere their king and the royal family.

Safety
Foreigners are very safe and welcome in Thailand, with very few reports of violent crimes against strangers. For more information and advice, contact your local embassy. 

Dos and Don'ts
Jai yen yen (heart cool cool): Thais consider outward expressions of anger to be crude and disrespectful. The visitor who stays calm and smiling will find all sorts of doors open to him.

Temples and Private Life
Visitors should dress neatly in all religious shrines. Wear covered shoes, with women in long skirts and no bare arms. Men should never go shirtless or in shorts. 
Shoes should be removed when entering private Thai homes; chapels where Buddhist images are kept; and in any of the Islamic community's mosques. In Thai culture, the soles of feet are considered unclean, so try not to point them at Thais. 
Each Buddha statue, large or small, ruined or not, is considered a sacred object. Never climb onto one to take a photograph or do anything that might show lack of respect.
Thais great each other and guests with a simple wai, raised hands clasped together in front of their face with a slight bow. The wai is a gesture of respect between two people. It is generally initiated by the younger, less socially important person. If a Thai wais you, wai back. Your Thai friends and acquaintances will be delighted to show you how to do it properly. Generally, foreigners do not wai each other. 

Medical, Dental and Spa
Thailand's medical and dental facilities are first-rate and world-renowned, staffed by Thai graduates of Western schools and its elite universities. Medical tourism is a big contributor to GDP, and is especially popular with Europeans, Americans, other Asians and, increasingly, Gulf States Arabs. Prescription drug prices are very reasonable by Western standards. Thailand's spas are highly regarded worldwide for impeccable, attentive smiling service at low rates, often in beautifully designed locations.