rayong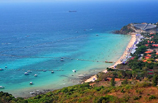 Located approximately 220 kilometers from Bangkok is the delightful resort town of Rayong. A late bloomer, Rayong province is well known for its pristine beaches stretching along a 100-kilometer coastline and scenic waterfalls amidst exotic surroundings. Aside from this, Rayong is blessed with an abundance of seafood products such as shrimp paste, fish sauce, dried seafood, and tropical fruits of which rambutan, mangosteen and durian are the most famous.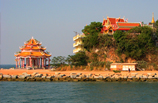 Boasting unrivalled sea-life resources, Rayong is one of the country's major agricultural and industrial provinces. On the other hand, the province has maintained its traditions and customs in the daily lifestyle of the locals. The best months to visit Rayong are from November to February. 
Rayong has more than 120 kilometers of beautiful beaches and is a very popular holiday destination among Thais as well as foreign tourists. Rayong is known as the fruit garden of Thailand and the biggest fishing port in Thailand. 
recommended accommodation