phuket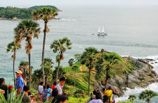 Located approximately 862 kilometers south of Bangkok is Phuket, Thailand's largest island, often dubbed the pearl of the Andaman or the pearl of the south. Its natural resources - rocky peninsular, limestone cliffs, white powdery beaches, tranquil broad bays and tropical in-land forests contribute to making it the South's wealthiest, busiest, most visited and most popular island and province.
Phuket borders on Phang-nga Province to the north. The other 3 sides are encircled by the Andaman Sea, the place where many of the best diving sites are located. The island is connected to Phang-nga Province by Sarasin Bridge and Thep Krasattri Bridge.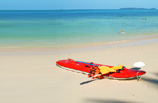 Staying on the island is easy, as there are only two seasons in a year - the rainy season (May to October) and the hot season (November to April). The low season of Phuket is between September and October as they are the wettest months. The best period for a visit, is from November to February, when it is possible to see the clear blue sky, feel the fresh sea breeze and marvel at the crystal clear water while lying on powdery, palm-fringed beaches. Average temperatures ranges between 23 C and 33 C.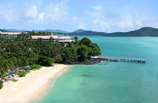 Phuket has a lot more to offer its visitors other than its natural heritage sea, sand, sky, beach, forest, and world renowned diving sites. Sino-Portuguese architecture casts its spell delighting travelers to the city, while Phuket-style hospitality has never failed to impress visitors from all walks of life. In addition, accommodations ranging from world-class resorts to tropical-style bungalows have warmly catered to the different needs of travelers. For seafood lovers, there is a lot more to sample than just Phuket's famous lobster. Altogether, these characteristics have made Phuket a truly unique destination.
recommended accommodation