bangkok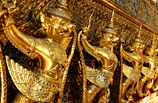 Thailand's capital city is known locally as Krung Thep, the "City of Angels," but foreigners know it as Bangkok. Home to 10 million people, one of the fastest-growing economies in the world, and countless picturesque canals, Bangkok has also earned the nicknames "the Big Mango" and "Venice of the East." 
Founded when King Rama I moved the city across the river from Thonburi in 1782, Bangkok is not a particularly ancient capital, but it is a cool mix of modern and traditional. It is positively filled with fascinating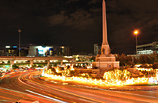 temples (wats), which are adorned with priceless art and religious treasures but are not museums: they are populated by orange-clad monks and are still the focus of local spirituality. Ask 100 people to describe Bangkok and you'll get 100 different reasons. Beyond simple description, Bangkok is an experience that cannot be duplicated anywhere else in the world: traffic, shopping, hedonism, five-star hotels, comfy serviced apartments, business, skytrain, spas, high-quality hospitals, music, culture, temples, subway, Lumphini Park, Wat Arun...Bangkok is extremely personal. Your Bangkok is still there waiting to be discovered.
recommended accommodation