kabinburi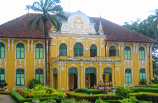 Kabinburi is situated in Prachinburi province which plays hosts to many festivals and events right round the year. The most popular are the Fruit Festival held in May/June and Long Boat Racing in September on Bangpakong River. 
Other places of tourist attraction in the area are Wat Kaeo Pichit, a temple built in 1879 during the reign of King Rama V. The temple's architecture is a mix between Thai, Chinese, Khmer and European architectural design. It is located on the Bangpakong River.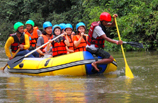 Sri Mahasot Ancient City is a large ancient city which is surrounded by a moat. The city was built during the Dvaravati Period and drew a lot of influence from Hindu Brahmanic religion. In present time, 100 sites throughout the city are visible and you can see places of worships, lingams and other images besides water pools.
Prachinburi National Museum is an art-lover's dream come true with its collection of ancient art from not just Prachinburi province but also the neighboring provinces. You can see artifacts discovered from Sri Mahasot Ancient City like tools, household utensils and statues.

recommended accommodation