hua hin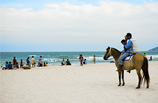 Hua Hin is unlike any other beach resort in Thailand. If you're looking for bright lights and the frantic all-night action of cabarets and discos, you may be disappointed here. However, if you enjoy walks through the quiet winding streets of a friendly coastal village, sampling delicious seafood in restaurants overlooking the brightly lit fishing boats on the Gulf of Thailand or a round of golf on one of the several international standard links, Hua Hin could very well be what you're looking for; Hua Hin has a special character all its own.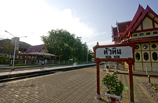 Hua Hin became popular as a rainy season retreat in the 1920's with the construction of the railway line from Bangkok. The beautiful,colonial style Railway Hotel was built near Hua Hin's famous rocks in 1923 by the State Railway Authority, which also built Thailand's first public golf course in Hua Hin in 1924. In 1926, King Rama VII built the Klai Kangwon (Far From Worries) Palace on the beach a few km north of the Railwa\y Hotel and this palace is still frequently used by the Royal Family. This set the stage for Hua Hin's popularity and unique ambiance which remains to this day.
The town is 200 km south of Bangkok on the west coast of the Gulf of Thailand. Travel by automobile takes less than three hours. The resort may also be reached by rail, coach, or daily flights from Bangkok.
recommended accommodation